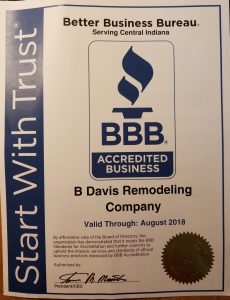 CUSTOMER TESTIMONIALS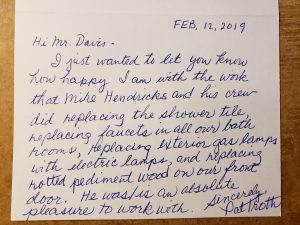 "Hi Mr. Davis, I just wanted you to know how happy I am with the work that Mike Hendricks and his crew did replacing the shower tile, replacing faucets in all our bathrooms, replacing exterior gas lamps with electric lamps and replacing rotted pediment wood on our front door. He was/is an absolute pleasure to work with." -Sincerely Pat Troth 2-12-2019
"To Bill Davis & Crew, Thanks again for your hard work & the results-the room/bathroom addition will be used for a long, long time. Probably will hold up better than the house. Hope you all have a wonderful Christmas & may God bless you all." – Tom & Suzi Miller

MIKE MURPHY
"I've known Bill & his entire family for over 25 years, and he has built his business from the ground up on the back of his personal integrity, professionalism, experience, and word-of-mouth referrals. He thinks projects through and designs for longevity. When Bill quotes your project, be wary of "the lowest bid" because you know you only get what you pay for!"

Moraima A. Bailey
Bill and his team completed the Basement Project at my new home according to my expectations. Bill went above and beyond to accommodate changes and modifications to meet my budget.
Certainly would hire Davis Remodeling and his team again for future major projects.

Ross Henderson
I've used B. Davis many times over the years. Why? Expert, quality results you can trust. I've leveraged Bill's expertise not only for project work in my home, but also as a consultant for homes I was looking to purchase. He brings the expertise and quality – always giving you confidence that he's working on your home as if it were his own. Bill's involved from the initial consult all the way through the end of the job. When I need a professional, B. Davis is at the top of my list

Patrick Schubach
Bill Davis has been a trusted name in the construction business for many years.
He is a true professional and can always be counted on to get the job done right.

Jeanine Lugo
Highly endorse Bill for all construction and remodeling needs. Bill gives you an honest assessment of what the work will entail, a more than fair price, and follows through with the work to ensure it more than meets my standard. We have used him on several major remodeling projects in our house and have been extremely pleased with work.

Garage and Basement Addition
"I would highly recommend B. Davis Remodeling for any of your remodeling or future needs for your home. Bill Davis and his crew were outstanding in finishing my basement and building a new 2 1/2 car garage. The garage is fully insulated, finished and heated. It's awesome! The basement has a beautiful bathroom, laundry room, and new family room. Bill worked with us on financing as well. His team is phenomenal! They were all courteous and friendly. I wouldn't ever use any other builder. If you want someone you can trust and rely on getting the work done right, Bill Davis is your man!"

–Matt and Roberta

Garage and Patio
"Thank you and all your crew for the great job you did for us. You did everything we expected and more. Everyone in your crew is courteous and easy to work with. We are very happy with the garage, patio, and all the little extra you did to help us. Thank you so much."

-Hank and Ruth

Windows and Siding
View this Project
"We can't thank you and your crew enough for the excellent work performed on our home. The new cement board siding and windows make the house look so much better. We could not be happier with the work, and have seen savings in our heating and cooling costs throughout the year. Rooms that used to be like a furnace in the summer and ice boxes in the winter are now so much more comfortable. This difference is amazing, and we owe it all to the professional staff at B. Davis Remodeling. If you are looking for an outstanding contractor that truly cares about the quality workmanship of every project then B. Davis Remodeling is the perfect fit."

-Corby and Kathy

_______________________________
CALL US FOR AN ESTIMATE TODAY!

(317) 781-0566

EMAIL:

B. Davis Remodeling has been in business since 1982. It first began as Bill Davis Construction and the name was changed to B. Davis Remodeling in 2001. Since 1982 the company has been involved in a wide spectrum of projects including:
ROOM ADDITIONS
SCREENED IN PORCHES
SUN ROOMS
IN LAWS QUARTERS
KITCHEN REMODELS
BATH ROOM REMODELS
CUSTOM TILE
FLOORING
CUSTOM WOODWORKING
CUSTOM CLOSETS/SHELVING
EXTERIOR REPAIRS
SIDING
ROOFING
GUTTERS
DOWNSPOUT BURIALS
CONCRETE
SUMP PUMP INSTALLATIONS
AND SO MUCH MORE!

From left to right, Bill Davis, Amy Davis, Jack Davis, Maggi Danz and Daniel Davis
We are recognized as an accredited business by the Better Business Bureau with an A+ rating, and take pride in that. Feel free to visit the Central Indiana BBB website to view our reliability report HERE
Since the beginning, we have always done our best to help customers achieve the dreams and desires they have for their home. A company can learn a lot by simply listening to their customers as we do. Our main goals to have our customers sit back when their project is finished and say "This is exactly what we wanted."
We have been able to achieve a long list of satisfied customers by providing quality workmanship that will last for many years to come. We don't take shortcuts to make quick fixes that sacrifice customer satisfaction.
B. Davis Remodeling is able to offer this high quality service at a fair price because we run a lean and efficient business. We are constantly exploring ways to improve our company and deliver quality work to our customers. When you do business with us, you benefit from the skills and expertise we have developed over the last 25 years, as well as the passion that drives us towards perfection over the next 25 years.
We look forward to listening to the ideas and dreams you have for your next project – perhaps you can join the many customers who have told us "This is exactly what we wanted."
At B. Davis Remodeling, we listen and that makes all the difference.